Frances (Fran) Hall Ziedelis was born August 24, 1927 to Leonard J. and Anna Marie Hall in Jackman, Maine. She died, surrounded by her loving family, on September 20, 2018.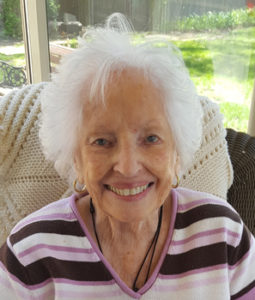 Fran graduated from Jackman High School in Maine and from the University of Maine at Farmington with a degree in early childhood education. She returned to college in 1965, receiving a certificate in remedial reading from Bridgewater State University.
Fran's professional career as an educator spanned many years — from teaching kindergarten full-time to substituting in the Canton Public Schools until 1971.
Fran's passions included singing with Sweet Adelines, volunteering for Camp Fire Girls, the outdoors, dancing, and traveling.
On December 4, 1971, Fran married Edward P. Ziedelis, blending two families which she lovingly cared for and nurtured. Fran embraced her role as Grams. She shared unlimited hours with all of her grandchildren and great-grandchildren.
Fran is survived by her children: James Holden and his wife, Mary Ellen, of West Bridgewater, Sarah Ruddy and her husband, Raymond, of Palm Bay, Florida, Anne Holden and her wife, Judi Rowell, of Canton, and Amy Calnan of Ashland; her stepchildren, Linda Veazue and her husband, Robert, of Stoughton, Gary Ziedelis of Stoughton, and Robert Ziedelis of Worcester. Also survived by her grandchildren: Michelle Gannon (David), Michael Rizzo (Laura), Janine Veazue (Tom), Brendan Holden (Nora), Patrick Ruddy (Hannah), Shayna Ruddy, Julianne Holden (Ryan), Christina and Sean Calnan; and great-grandchildren: Joshua and Conor Gannon, Kylie, Benjamin and Christian Rizzo, Jaylen Mitchell and Jordan Ruddy. She is also survived by her niece Kim Godson and nephew Leonard Hall. The family would like to thank the caregivers at Old Colony Hospice & Palliative Care for their compassion and support to Fran and her family.
Expressions of sympathy may be made in her memory to: Old Colony Hospice & Palliative Care, 321 Manley St., West Bridgewater, MA 02379, or the Perkins School for the Blind, 175 N. Beacon St., Watertown, MA 02472.
It was Fran's wish to be cremated and interred with her husband, Ed, during a private service at St. Mary's Cemetery in Canton. A celebration of life will be held at a future date. Arrangements by the Roache-Pushard Home for Funerals, 210 Sherman Street, www.roache-pushard.com.