Hazel M. Fox (Heatherington), 94, of Stoughton, formerly of Sharon, passed away September 17 at the Copley at Stoughton after a long and eventful life.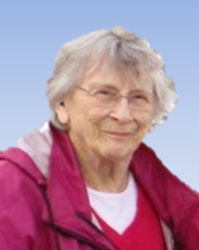 Born in Natural Bridge, NY, she and her six siblings were raised in several small towns in northern New York because their father was a Methodist minister. Hazel graduated from Madrid High School in Madrid, NY, and Potsdam Normal School (now SUNY Potsdam).
She started her teaching career in an elementary school in Port Washington, Long Island — a major move for a North Country girl. While there she met and married Horace Greeley Fox and continued her semi-nomadic existence because Harry was a newspaper reporter who moved several times for work. Each time, Hazel packed up the house and three children and went along. She found work teaching everywhere she went and branched out to teach junior high and high school art. Harry died in 1962 and Hazel moved with her children back to Waddington, NY, to be near her family. Her last teaching job before retirement was at Saint Lawrence Psychiatric Center in Ogdensburg, NY.
Throughout her life, Hazel traveled as much as she was able, but after retiring she was really able to gratify her wanderlust. For 15 of those years she shared her life and travels with her companion, Calvin R. Simmons. Over the years, the girl from northern NY visited the family cottage in Ireland, stood on the rim of a volcano in Hawaii, attended the first elder hostel on the Queen Elizabeth 2, and visited Greece and Turkey to name just a few of her adventures.
She never lost her love of the North Country, however. She cross country skied and hiked in the Adirondacks for as long as she was able and photographed many places in the area, especially her beloved St. Lawrence River. She hosted awesome family reunions at her house on the river that included good food, card games, and music with Hazel at the piano. And she was especially good at being a grandmother.
She spent her final years with her son and daughter-in-law in Sharon, and then near them at the Arbors in Stoughton.
She was the mother of Gary W. Fox and his wife, Ellen, of Sharon, Susan E. Fox of Huntington, Long Island, and the late Richard L. Fox. Mother-in-law of Cheryl Fox of Fenton, MO. Grandmother of Daniel, Elizabeth and Brendon Fox. Sister of the late Lawrence Heatherington, Jean Nichols, Louine Pernice, Viola Myers, Elsie Buck, and Murial Bicknell. Beloved aunt and great aunt to nieces and nephews all over the U.S.
Visiting hours at the Dockray & Thomas Funeral Home, 455 Washington Street, on Friday, September 28, from 4-7 p.m. Memorial service at the First Parish Unitarian Universalist Church, 1508 Washington Street, on Saturday, September 29, at 11 a.m. Burial private. Donations may be made in her memory to the MSPCA, 350 S. Huntington Ave., Boston, MA 02130, www.mspca.org, or to WGBH Educational Foundation, 1 Guest St., Boston, MA 02135, www.wgbh.org. To sign guestbook, see dockrayandthomasfuneralhome.com.